Almost 20 years ago, when Cord Meijering founded his Young Composers Class at the Akademie für Tonkunst in Darmstadt, he had just completed his studies with Hans Werner Henze and begun to study with Hans Jürgen Wenzel at the Akademie der Künste in East Berlin.
At the time Henze and Wenzel had been teaching music composition for 20 years, and both of them always put the art of creating music at the heart of their methods. Both composers welcomed Cord Meijering as an active participant in their pedagogical projects.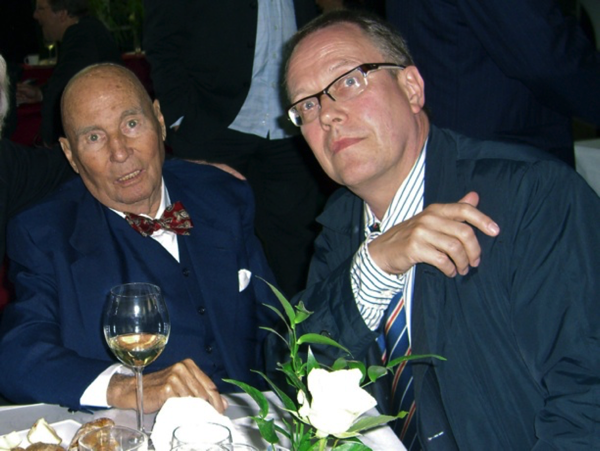 Hans Werner Henze and Cord Meijering at a party after the world premiere of Henze's opera GISELA! - ODER DIE MERK- UND DENKWÜRDIGEN WEGE DES GLÜCKS (September 25, 2010)
"From 1983 to 1986 Cord Meijering was a student in my composition class at the Staatliche Hochschule für Musik in Cologne. During those years he demonstrated remarkable artistic abilities and technical skills, long since confirmed in several of his works for orchestra and chamber ensembles. Cord Meijering is one of the most promising composers of his generation, and I can recommend him as a composer as well as a teacher of musical theory".
Hans Werner Henze, Rome, October 1992
As an heir to the artistic and pedagogical traditions of Henze and Wenzel, Meijering has established himself as one of the most distinguished composition teachers of our time.
Many of his pupils from his Young Composers Class at Darmstadt went on to Harvard University in Cambridge, Massachusetts, the Mozarteum in Salzburg, the Royal College of Music in London, and other national and international universities.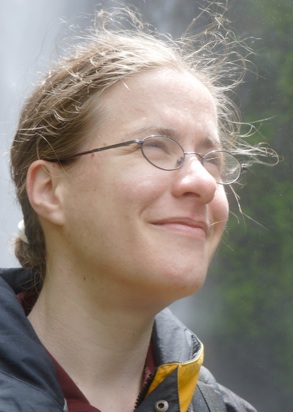 Karola Obermueller studied composition at Harvard University. Today she is Assistant Professor of Music Composition at the University of New Mexico in Albuquerque.
For more information please visit www.karolaobermueller.net
"Cord was my first composition teacher, and he really lit a fire inside me - a fire that made me want to be a composer above anything else. He has a special talent for igniting inspiration in his students and for making them see what music can be. Working with Cord is about more than just inventing music - he will have you devote yourself to music, he will have you work hard to find YOUR music. And he will push you to achieve more than you thought you could. With him as your teacher, composing music becomes a passion, a truly transformative experience".
Karola Obermüller, Albuquerque NM, October 2010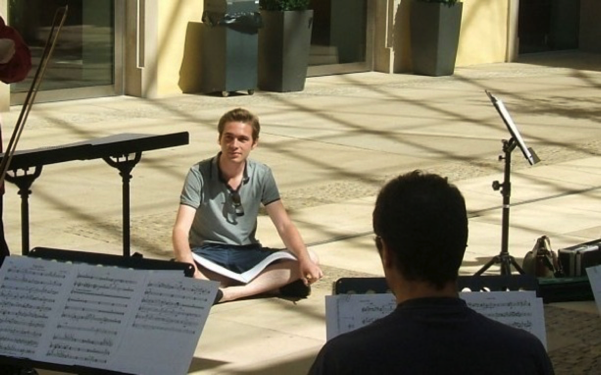 Arne Gieshoff today studies Composition at the Royal College in London.
For more information please visit www.arne-gieshoff.de
"Always challenging, always honest and never trivial. A lesson with Cord was one of the few occasions where a teenager was treated like a peer instead of a pedagogical experiment. Being more than a teacher but a friend he widened my understanding of music, art in general and not least life".
Arne Gieshoff, London, October 2010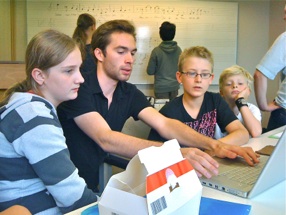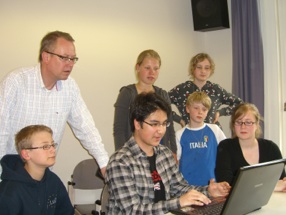 Arne Gieshoff and Cord Meijering teaching the young composers at the Akademie für Tonkunst in Darmstadt, Germany. They were working on the opera DER PRINZ VON JEMEN, commissioned by the Staatstheater Darmstadt, sponsored by AVID-SIBELIUS (notation software).